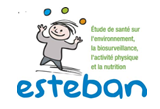 Health Study on Environment, Biomonitoring, Physical activity and Nutrition 2014-2016.
The French Nutrition and Health Program (PNNS) wished the renewal ofthe National Nutrition and Health Survey (ENNS-2006) in order to provide reliable comparative data on the situation about the nutritional surveillance in terms of evolution. It is in this framework that Santé publique France (the French National Public Health Agency) have set up the Health Study on Environment, Biomonitoring, Physical Activity and Nutrition (Esteban) to meet objectives on biomonitoring, chronic diseases surveillance, and nutritional surveillance (dietary intakes, physical activity and nutritional status). The Esen (Nutritional Surveillance and Epidemiology Team) was in charge of analyzing the nutritional aspect of this study and providing comparison with the results of ENNS.
Esteban was implemented in a national sample including 6-17 year old children and 18-74 year old adults living in France. Following a three-degree sampling plan, the subjects inclusion was carried out between April 2014 and March 2016 to take into account the seasonality of the diet and eventual exposures. Data collection concerned sociodemographic, behavioral and environmental questionnaires, food questionnaires and a health examination with anthropometric measurements and biological sample. The dietary recalls concerned 1,281 children and 2,835 adults. Health examinations concerned 1,104 children and 2,503 adults.